Homebrew technicians and even professional technicians with lots of experience with CRT TVs, but not familiar with plasma TVs often ask me how to find the ZBias or Va or Vs voltage for the plasma they are working on.
It usually happens when they send us a Z sustain board or Y sustain board for service / exchange and we send it back with a note remidning them to adjust ZBias after the board arrives.
Everything in a plasma TV revolves around the display and plasma displays, much like computer processors, may come in with slightly different parameters, even though they'd still carry the same panel information.
So all plasma TVs , in fact all plasma panels, would have a sticker somewhere on the back of the panel , usually in the upper right corner, which indicates the data for this particular panel.
It looks like this: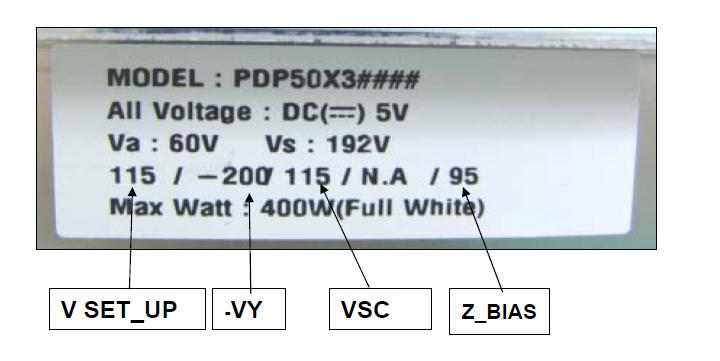 (the picture is courtesy to LG electronics, one of the largest plasma panel manufactures in the world. Did you know that brands like Philips, Insignia, Vizio, Magnavox are using either LG or Philips in their plasma TV products? Yes, the core of the TV is made by very few big name PDP manufacturers!)
Hope this helps!