In March I blogged on the ability to
interchange main board between Polaroid TDA-03211C and Polaroid TDX-03211C
.
A few days ago I had a customer bring in a Memorex MLT3221, which, deisgn wise, appeared the same as the above mentioned Polaroid models. It was apparently the same piece of equipment just branded to a different company.
Well, almost the same.
Even though it is the faulty power boards that those Polaroids are notorious for, the Memorex MLT3221 had an apparently good power board - first because it had all the produced voltages neatly printed on the board and second because they all checked.
So apparently it was (again) the main board. 200-107-PF261XA-CH.
Presented here for your viewing pleasure: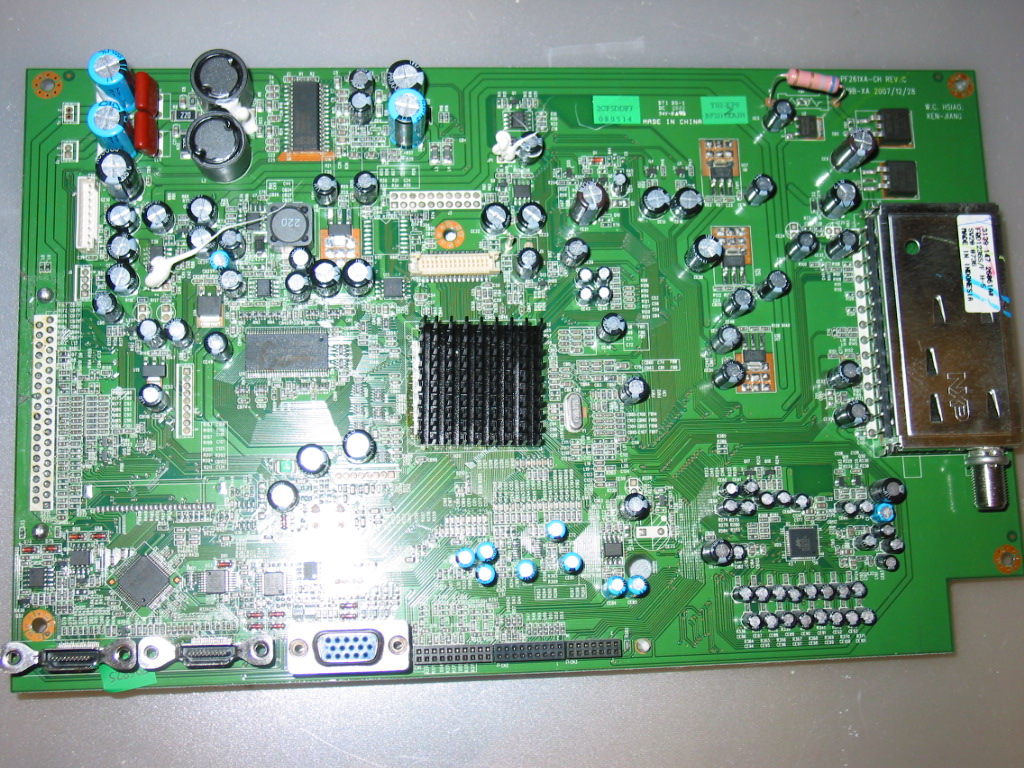 Well, it turns out this boad is rare. Especially if you search for a board for Memorex.
In fact, I did not find any availability for Memorex.
However, I did find a board with the same tag available for Polaroid TDX-03211C.
You guessed it, it worked.
But wait, it's even more interesting! Suppose you do not find 200-107-PF261XA-CH for neither Polaroid nor Memorex. What do you do then, throw the TV out? Pay $150 for a main board for a 32'' TV when you can get a new one on Craigslist for $250 and at Walmart for $300?
No, you can simply use 200-107-GT32XA-BH from Polaroid TDX03211C and therefore, because of my earlier post, you can also use 200-107-GT32XA-AH from Polaroid TDA03211C!
And I am not kidding you, it works! I tried :-)
There might be the minor issue of having to see "Polaroid" instead of "Memorex", but if you find the board at a good price that would hardly matter a lot, right?
And finally, if you use Polaroid board in Memorex you will need a little extra work to extend the antenna cable connecting the board with the external antenna outlet.
You see, the Polaroid boards have the antenna receiver placed higher on the board and turned horizontally as can be seen here:
All in all, though, none of these is a deal breaker.
I hope you can use that information and it can serve you well as it did serve me!
And do not forget to order your parts and services from
http://www.coppelltvrepair.com/
:-)