There's a problem I do not remember seeing before, so I decided to note it here.
A 50'' plasma HP PL5060N has come in for repair with typical sustain problem - burned fuse, power with no image.
Turned out it was the Z sustain and after replacing the two IPMs YPPD-J015B and YPPD-J016B with new modules and doing some quick tests I plugged the board back in, replaced the fuse and turned on the TV.
The TV showed up the HP logo for a few seconds, then turned black and restarted itself.
At first I thought the problem was in the main board or the power board, since I got good image on screen if only for a few seconds, suggesting sustains were normally functional.
But I had a spare Z sustain board and for my luck decided to see if it will make the TV behave differently.
Surprisingly, it worked out well with it, something I frankly did not expect. I am glad I tried, because I would have sworn the problem was in either main board or power board.
Anyway, after further investigation it turned out that there were two problems on that ZSus board:
The R9/R91 resistors were both burned and the D3 diode was shorted.
The picture below indicates the component locations: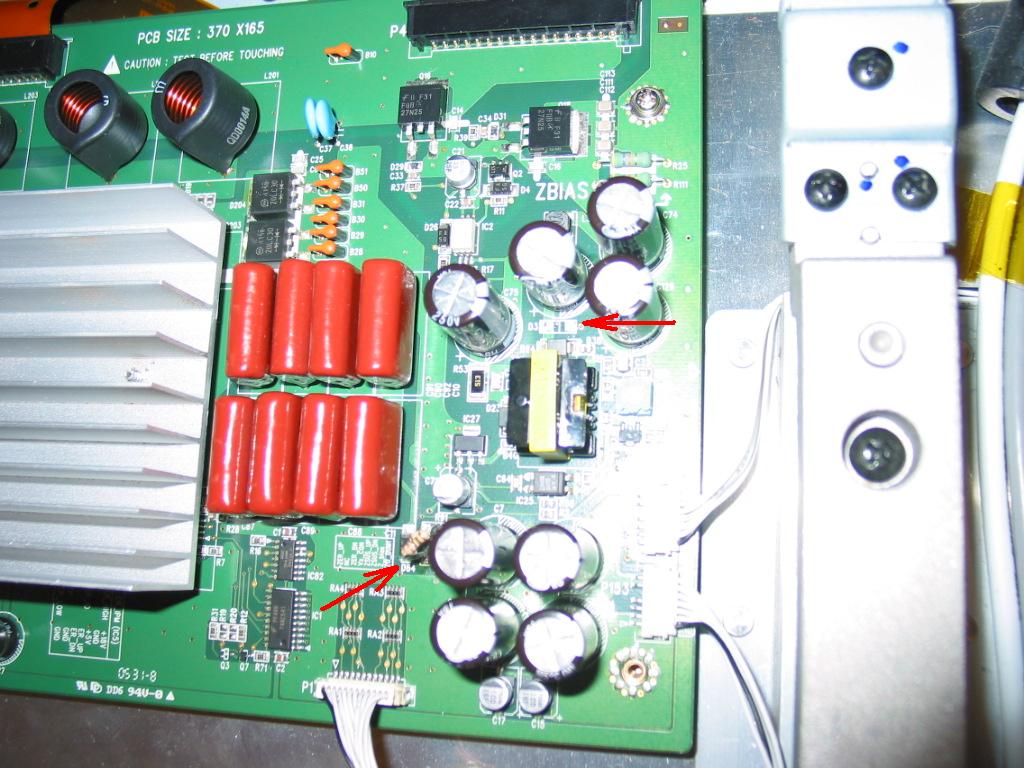 The R9/R91 are connected in parallel for a resulting resistance of 5 Ohm. I didn't have SMD resistors like them handy, of course, so I just replaced them with generic 0.125W pair of 10 Ohm resistors connected in parallel.
D3 is apparently a protection diode. It was completely missing in the 6870QYC004B version of the board that I had and which was functional. Call me what you like, but I had decided to leave it missing in the 6870QZC004A version as well.
After fixing R9/R91 and removing D3 the board allowed the TV to continue beyond the HP logo.
If you want YPPD-J015C or YPPD-J016C for your own DIY project or if you want your Z-Sustain or Y-Sustain repaired check out
my store
.