Synopsis: this article discusses the most popular failure in HP PL4260N (and the bunch of other TVs based on the same plasma display set by LG), the means to diagnose which board has failed and provides links for repairs / replacements for the failed boards.
Question: I have an HP PL4260N plasma TV (purchased 2006) that has suddenly lost picture. I don't know whether sound is still there since it is run through a home theater receiver. I have taken the back off and none of the fuses are blown and there is no obvious bulging of any capacitors ( with one possible exception of a large 450v, 330 mf capacitor... it is so very slight that it may not be a bulge at all). All fuses (there are 5) show continuity. When the on switch is pressed it turns blue and then back to red. No picture at all.
I have read your very interesting blogs but have found nothing specific to my Hp model... some say is was actually manufactured by either Samsung or LG. I realize the information I'm giving you is sparse but from what I've read, I assume the failure of the Y an X boards as well as the power supply involves the failure of their fuses.... as mentioned, no failure noted. Should I go ahead and replace the suspicious capacitor as the first step? What can I do to determine the faulty board or combination of boards and what would each cost to repair. Also, if a board tests OK by you, what would the charge be for the testing?
Answer.
Yes, this is likely a YSUS or a ZSUS board on your PL4260N.
(for those who do not know what YSUS and ZSUS are, here's a quick pictorial guide:)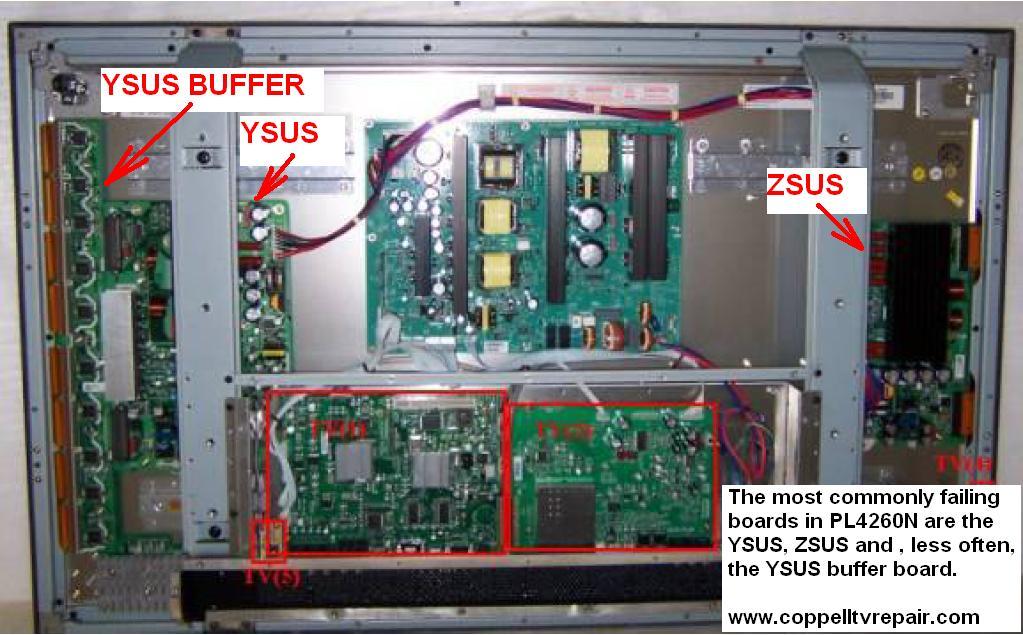 A blown fuse is the most common and apparent indicator of a failed board, however sometimes a board can fail without blowing a fuse.
So while a blown fuse is a guarantee of a failure, the lack of a blown fuse is still not guarantee of anything.
Since your TV refuses to power on (going blue and then back to red) that would suggest the faulty board is shorted. When the power component on it has failed, a power semiconductor element there (one or more) have melted and has created a permanent (short) connection between power input and ground.
This is one of the possible outcomes of a power component failure and should not be taken for granted in all cases of a failure, but is still a very common one.
The same shortage is the reason why fuses blow in the first place. In your case, as we said, the power supply board has responded faster than the fuse and shut itself off.
Now when powering on it again detects the short before releasing full power voltage in that circuit and shuts off, which is why you see the TV going from blue back to red in a very short time.
When there is no burned fuse on either sustain board there are two major possibilities for a failure:

1) When the TV would not come on at all
That would indicate that a board has failed and shorted a major power line, but did not blow a fuse and as a result when TV is turned on, the shortage is detected by the power board and it automatically shuts itself down.

It is very easy to figure out the failed board since it prevents the TV from coming up: all you have to do is disconnect first one of the boards from power, say the YSUS board, and attempt to turn on the TV.
If the TV comes on and stays on (of course without anything on the screen) then the disconnected board was the one that was stopping it.

If the TV keeps on doing the same then connect the board back to power and disconnect the other one, then try to power on again.

If TV comes on this time then you've found your faulty board and if it still doesn't then the problem is most likely in neither of the sustain boards (although it is theoretically possible that both of them are bad).

Another simple way to find the failed board is to use DMM to measure resistance between Vs and GND pins on the power connector of the board. Zero or low (ohms) resistance in both directions indicate a failed board.
Please note that this is not the only possible short a board may develop, only the most common one.


2) When TV would come on with black screen or , sometimes, very dim, washed out screen
This is actually the more common failure than the above.
Dim and washed out image is most commonly caused by a failed ZSUS board.
If there is nothing on the screen, however, it could be either the YSUS or the ZSUS board that is bad (and very rarely both of them).
The easiest way to test which of the two may be bad is to let the TV run for 5-10 minutes (with dark screen) and then feel the heat sinks on both boards with your hand.
The one that is
not
hot is probably the faulty one.
If
both
are hot then the best thing to do is to send both of them for complete test in an actual working unit.
It is worth noting that a good number of times when the board fails it does not end up being short. It is still malfunctioning, but not necessarily short. Even more, sometimes it may have blown the fuse and still NOT be short. So if you replace the fuse you'd be able to power on all right, but still without an image or - sometimes - with a flashing light on the screen or other defects.
Hope that was helpful!

See you soon!