This is going to be another one of those facts versus claims article.
Earlier today we received a Google review of 1 star and two words for the description:
"FALSE ADVERTISING."
It was left by Thomas Wiegandt.

After some digging in our reccords we found that someone with that name - we'll assume it is the same person from now on - has placed an order from our eBay store a few days earlier.
This is the record from our online administrative system (click to view)

And this is the actual eBay order from eBay's website (click to view):

The listing for the order can be on the following eBay page (click to open in a new window):

REPAIR SERVICE VIZIO VO47LFHDTV30A POWER DPS-280LP / 0500-0407-0680 DEAD TV
Now, Mr. Wiegandt has not bothered to specify what exactly is the "false advertising".

Until he gets kind enough to elaborate I will first point out that it can not be related to the qualities of the advertised repair service for the simple reason that the purchase was made on January 27th and today is February 2nd, which means that even if the board to be repaired has been somehow magically transported to us on the 28th it would still be in the processing queue along with all other packages from 28th, 29th, 30th, 31st, 1st and 2nd.
This is also confirmed by the lack of communication from us since order was placed and a notification with reminder to send the board was sent.
I'd also dare to presume the board was not magically sent to us overnight.
I think the reason for Mr. Wiegandt's review is the fact that he just became aware that the listing (advertisement) is for REPAIR SERVICE and not for an actual physical board.
This is the most common issue we see and the reason why most repair listings for all repair service vendors on eBay have pictures which, in total violation of the eBay listing requirements (no text in pictures!), do include text in the picture. It is usually THIS BIG and says "REPAIR SERVICE" or something to that extent.
Here are a few random pics from the first page resulting in a "REPAIR SERVICE" search on eBay: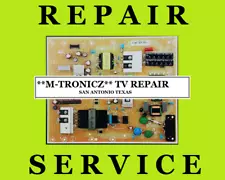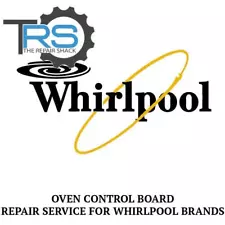 Of course our listing also says REPAIR SERVICE in the picture as you will see if you follow the above link.

It also says REPAIR SERVICE in the title of the listing.

It also says "You pay us to service, test and return your own module. Please read the listing!" in the "Condition" field, right under the title.
The same in the "Seller notes" field that is in yellow, just above the description.

It also is listed in the " Specialty Services>Restoration & Repair>Electronics" category eBay has for the purpose (which BTW many repair vendors do not use, but that is another story).
It also says, at the very top of the description,
SERVICE DESCRIPTION - PLEASE READ IN FULL!
Coppell TV Repair LLC offers a REPAIR SERVICE for the power supply board DPS-280LP / 0500-0407-0680 shown on the picture and used in VIZIO VO47LFHDTV30A LCD TV and possibly others.

REPAIR SERVICE means you have to send us your board, which we will test, service (if necessary) and return back to you.
And because in past years we often got calls and messages asking how does the repair services work (this is America, people have been taught for generations to use and throw out, not to repair), we also have a section titled "HOW DOES IT WORK", which explains it in plain, long, no-fine print English.

On top of all that we also send an email after purchase with shipping instructions.
You can see that in the picture from our site at the beginning of this page.
And on top of all that we also send a snail mail via USPS for all sleepy heads who have somehow missed all of the above. The snail mail is mostly to bring their attention to the fact that they've ordered a repair service and we are waiting for them to send a board for repair. This is the USPS tracking number from the screenshot from our website.

Now, looking at the tracking information I see Mr. Wiegandt has received his USPS notification today:
Having probably expected a board he was probably disappointed he didn't get one, but a piece of paper instead.

The piece of paper is tricky enough to point him to the actual listing where he could see for himself that it is extremely plainly and clearly explained what is being sold and how it works.
Some people only get more agitated when they see that. Probably because it pretty clearly indicates the source of the problem being themselves.

Some would try and find justification for their action while others would simply march to the nearest computer and post a negative review, possibly after calling us on the phone and screaming at us.
Some would say that the page included terms like "Item" and "Items available" or "Delivery date".
While I can't disagree the eBay terminology is confusing in the context of repair services I also think that is a poor excuse. It's like saying that all people are lairs just because you've been had once.

Or thinking that all women are cold just because you've been rejected once.
There are a few confusing terms eBay has placed on that page (and refused to change; we just gave up trying) out of about a THOUSAND words. Most of them are very very clear and detailed.
It's just not right to seek excuses there.

And even if would have been right then the complaint should be targeted to the eBay's reviews page, not at ours.
We can't control how eBay lays their pages. God knows we tried. Fact.
Look at our own website, for example.
This confusion could not possibly happen there. We just do not take money upfront for any repair service, so you could not have paid mistakenly for one.
You have to send us a board to repair and you won't do that if you want to buy a board.
And if you can buy a board at our website you will be shipped a board.
No room for confusion.

So, if my assumption that the bad Google review is due to confusion on the customer side, it is unfair, since the advertising is extremely clear, at least as far as we are in control of it, and second, it is misplaced, since the ONLY part that may be attributed to some confusion, is an act of eBay and their wording and elements on the page (their mobile pages are also confusing because they omit a lot of the stuff for the sake of simplicity and easier conversion).
If anyone can add arguments for Mr. Wiegandt's view I'd like to hear and address them.